Copper flexible connectors are needed when you must make current pass through unstable connecting devices. When the devices are unstable and electricity is transmitted through these, the devices can experience vibrations and expansions because of heat. In short, conductivity and location of such devices will continue to change. This is when copper flexible connectors are used. These are built from copper of different types such as silver plated copper, tin-plated copper and even bare copper wires. Depending on what your needs are, you can get the copper flexible connectors customized for you.
You will find a lot of demand for the copper flexible connectors. They find extensive usage in different kinds of electrical projects, big and small. To make these connectors better for sending electrical currents, their ends are made to dip in hot tin. You will find both the flat copper wires and round-shaped copper wires being used to make the flexible connectors. However, these wires have to be made to undergo a definite process for building the copper flexible connectors.
Copper wires are preferred for electrical appliances simply because copper has extremely high electrical and thermal conductivity. In order to make the flexible connectors last longer, often you will find manufacturers using steel alloys and aluminum alloys. These connectors can guarantee a steady and optimum power supply and they are best suited for areas which need a lot of wiring and power demands are exceptionally high. For businesses that require a particular type of copper flexible connectors, it can order for these specifically and the manufacturing company will make accordingly.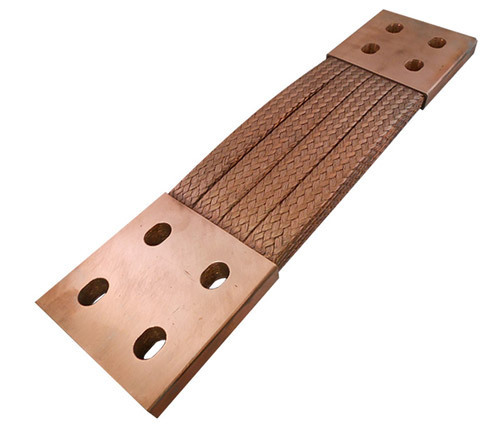 It is also important to buy the copper flexible connectors from only reputed and high rated manufacturing companies. They will provide good quality connectors which have a solid construction and will last long. You will find a great demand for these products because they offer optimum performance and last long. Incidentally, the best varieties will be used by the automobile industry and by electrical distribution industries.
The wires are known for their flexibility and high electrical conductivity. So, you will not experience too many voltage drops and power fluctuations. They are usually prepared in a non-insulation manner. They can also be fitted with PVC insulation sleeves and silicon sleeves depending on what the customer wants.  The bus bar connectors are made using padded braids in large numbers for better voltage-holding capacity. You must choose a manufacturer which can guarantee high-grade products made from good quality raw materials. The products should have been tested well before being sold online. And, you must choose a manufacturer which has customer-friendly exchange or return policies. This will ensure that you can return damaged or defective products at the earliest.
In this way copper flexible connectors are a good buy when it comes to electrolytic processors, computers, power generators and transformers. You will also find them being used widely in plants and telecommunication industries. Their long life and flexibility make them popular. They can successfully keep noise levels minimum and prevent unwanted vibrations. All these connectors designed with a lot of care, taking into account where they will be used. They are strong enough to withstand upheavals inside switch gears and machines.