There are stranded wires and there are solid wires. The latter is a single wire called strand. Wire wrap is a common kind of solid wire. Stranded wires are made of multiple solid wires that are bundled together to form one unit.
Uses
Stranded copper wire shows more flexibility than solid wire. That's why stranded wires are used in cases when the cable needs to be moved around more. For example, a robot arm.
Solid wires are good in cases when the wire just needs to sit at one place. For example, breadboard prototyping circuits. In this case, stranded wire won't do because it is difficult to push the wire into the board. The strands can separate. Solid wire is easy to push.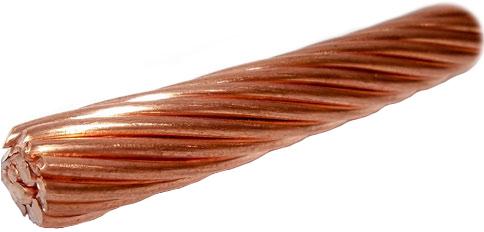 Type of wire depends on the usage and nature of application. So, before you go shopping for a wire, you must know the purpose. Wires don't work according to trends. It's not that stranded wires are trendy so you buy them. Purpose decides the choice.
 Choosing the right wire
Several factors come into play. You must know the right gauge of wire. This is based on application and amperage load. This also decides what type of wire you must use – copper, aluminum, nickel, or other. Copper is usually the first choice, but there are applications where aluminum works better.
Again, you must decide whether your application needs solid wire or stranded wire. Both types are used for residential and commercial installations; however, the cohesive bunch of wires (stranded) may not always be conducive for usage than a single solid wire. Each one has a set of advantages and disadvantages.
Both types transfer electric current effectively; so there is no question of what is better. Yet, there are applications where a stranded copper wire can work better than a solid wire and vice versa.
Solid wire is generally used for rugged-duty applications and outdoor usages where the wire is exposed to adverse weather elements, corrosive conditions, and frequent movements.
Stranded wire is generally used for intricate applications like circuit boards and electronic devices. Here, the wire is protected, but needs to be bended and twisted to be connected to electric parts. Stranded wires are thin and can be easily bended and twisted.
That's the reason applications like vehicular wiring and robotics need stranded wires. Such applications feature complex bending and shaping. Solid wire can do little here, as it lacks malleability and strength to withstand complex twisting and bending.
Of course, solid wire is a bit less costly; but stranded wire lasts longer, especially in situations where frequent alterations or movements in the wiring can happen. So, you must consider long-term cost and durability, not the initial cost.
Moreover, with names like Rajasthan Electric there is hardly a problem with getting high quality wires. They are pioneers in providing world class products in this regard. The manufacturer markets their products under the brand name "BRITEX." Solid wire, stranded wire, winding wire, braided wire, enameled wire, bare copper strip, and more – the products are in a variety and produced through stringent quality standards that meet international requirements.