Braided flexible connectors, jumpers are copper-based metallic devices, that are used as connectors. As is self-explanatory going by the name, connectors and jumpers, are instruments used to connect two or more devices. Electric connectors are essentially electromagnetic devices that are, highly flexible and durable, used to attach circuits.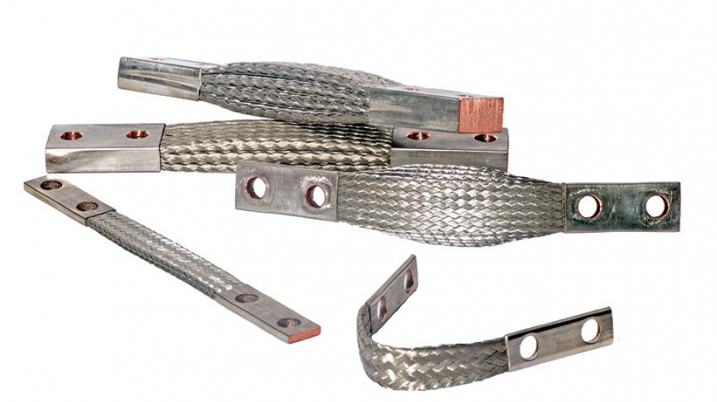 Copper is one metal that is massively used by almost all types of industries It is soft, orangish red in color and comes with many rich features. It is an excellent conductor of heat and electricity. Copper is ductile, malleable and hence is seen in almost all electric and electronic appliances. Copper is mixed with tin/ steel to form an alloy and the braided flexible connectors, jumpers are one of the products that is created with the alloy.
The braided flexible connectors, jumpers are made not only in copper but also in aluminum, stainless steel made from tinned or silver coating. Braiding is a process to create a casing with strands of metal around a cable. Its function is to protect the cables from any outside disturbance that can impact its performance.
Risk-free solution:
The tin copper alloy is highly resistant to fluctuations and can control vibrations. There are many times an industry may need current to pass between two unstable conducting devices. In such cases the braided flexible connectors, jumpers are used in a large scale to get the maximum results. Some reasons for the devices to go unstable include thermal expansion, vibrations, heat etc. Risks of fire or electric shock looms large and to eliminate the risks the connectors are used.
An important component in many industries:
Braided flexible connectors, jumpers are manufactured using steel and copper to enhance the robustness and strength of a device to ensure it works to its maximum even under high pressures. They come as an efficient solution where there is demand for power with a heavy workload on wires. The connectors and jumpers can control and absorb vibrations, manage any type of expansion and contraction of wires during power transmission. The flexible connectors and jumpers are used in places where solid copper cannot be used and performance may be affected. They provide support with the lowest resistance to ensure seamless performance.
Features:
The braided flexible connectors and jumpers are
Highly durable, long-lasting
Built strong to withstand heavy pressures
Elegantly designed with a fine finish
Heat resistant, better conductivity.
The copper wire manufacturer has a huge responsibility to make sure of the quality of products they off. Almost every industry depends on copper in some form or as an alloy for their products. Any slackness in the quality can have a wrong impact on the end-product. The copper wire is made from the finest quality raw materials. They use cast copper rods that are near to 100% in purity. If you have any requirement of copper choose a reliable manufacturer that comply with international standards and meet the requisite BSS/ISS standards and offer good customer support.