Copper is one of the predominant choices in the electrical industry due to its high electrical and thermal conductivity. The usage of unalloyed high purity copper helps to obtain required properties of this metal. Copper has been used in electrical wiring after the invention of the electromagnet and acts as an electrical conductor in many divisions of electrical wiring. A copper wire can be used in insulated or uninsulated form, depending on the requirement of various sectors like power transmission, telecommunications, power distribution, electronic circuitry and power generation.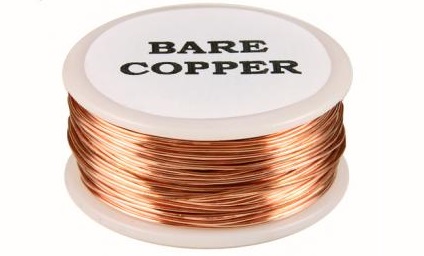 Copper possesses important properties, which makes it suitable to be used for electrical wiring. Some features of copper are explained below:
1.Compatible with connectors: Copper helps to keep the connection robust and corrosion-resistant. The compatibility of copper with brass ensures that the connections don't corrode or creep with time.
2.High tensile strength and ductility: The main reason why copper is preferred in construction industry is its tensile strength and ductility. Copper has high tensile strength than aluminum and it is much more ductile than any other alternate metal conductors, except gold and silver.
3.Efficient than any other electrical conductor: Copper has an exceptional current carrying capacity than other engineering metals. And, because of the thermal conductivity of copper, it is used in terminations and connections.
Bare Copper Wire:
Copper is suitable for electric transmission purposes as it is regarded as a very good conductor of heat and electricity. It can be availed in different forms, and bare copper is one of them. Bare copper is extracted while breakdown of rod at the first stage, which is further processed for heat treatment to elevate its ductility. And, the process through which bare wire is extracted is known as annealing. Bare copper wires are used for grounding and are manufactured keeping in mind their conductivity elongation, diameter, and resistance. Having best conductive properties, bare wires are commonly used in residential places, without being protected by insulation. Apart from that, these wires are used as a base for different kinds of wires and or cables.
Much advancement has been seen in metallurgy and engineering operations, which has made bare copper wires undoubtedly most popular electrical components that hardly undergo any change. Copper wires are safe against shocks and are resistant against atmospheric corrosion. Here are few advantages of bare copper wire, which make it prominent choice of various industries:
1.Natural extraction: Bare copper wire is extracted naturally using simple metallurgical and engineering techniques. It is available with 99 percent purity and its techniques involve limited waste management.
 2.Thermal and electrical characteristics: Bare copper wire is used as a single strand wire and can sustain temperatures up to 100 degree Celsius. It is also flexible in nature and hence, used to make braided copper wire to build an assembly. Also, bare copper wires can withstand expansion and contraction due to weather changes.
 3.Recyclable in nature: Machines manufactured using bare copper wires are recyclable in nature. The wire is coated with advanced metallurgical tools to enhance its electrical and magnetic properties.
Given these benefits, there is no doubt why copper wires are uses in electronics, telecommunication and electrical industries.